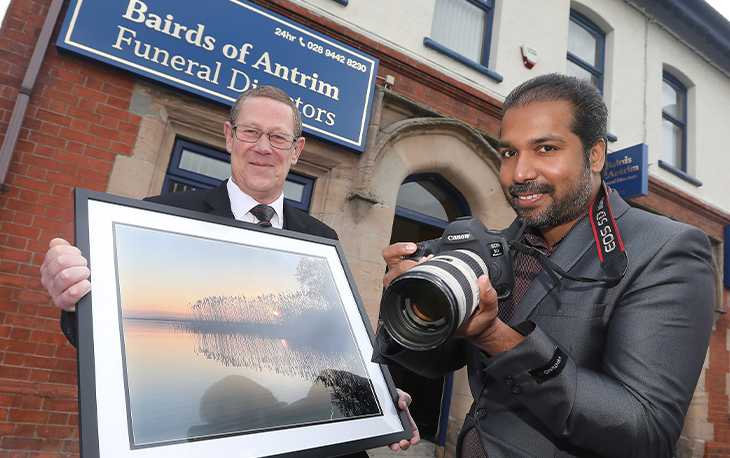 Bairds of Antrim, based in Church Street, received dozens of entries during the contest. The chosen theme was 'My Hometown' which reflects how proud the team at Bairds are at being embedded in the heart of their community.
Johnpaul Gnanadhas was selected as the winner after he captured a stunning sunset. He has received £200 worth of photography equipment so he can continue to take spectacular images.
Johnpaul, who heard about the competition on Facebook, said: "It gave me the opportunity to show my work and creativity to others.
"Antrim is a town where the light cannot be hidden – it just shines everywhere and to everyone.
"I think the picture reflects how beautiful it is.
"I've been taking pictures since 2009 and photography is one of my biggest hobbies – it's all about capturing a moment at the right time.
"Photography is also a great opportunity to socialise with my friends and other people who enjoy taking pictures."
Business Principal Jon Baird said: "We had some fantastic entries into this year's competition – I was really blown away by what people captured, but we all agreed that Johnpaul's picture was outstanding and really encapsulated our wonderful Antrim.
"Congratulations to him, and a big thank you to everyone who entered."
To see some of the entrants follow Bairds of Antrim on Facebook.