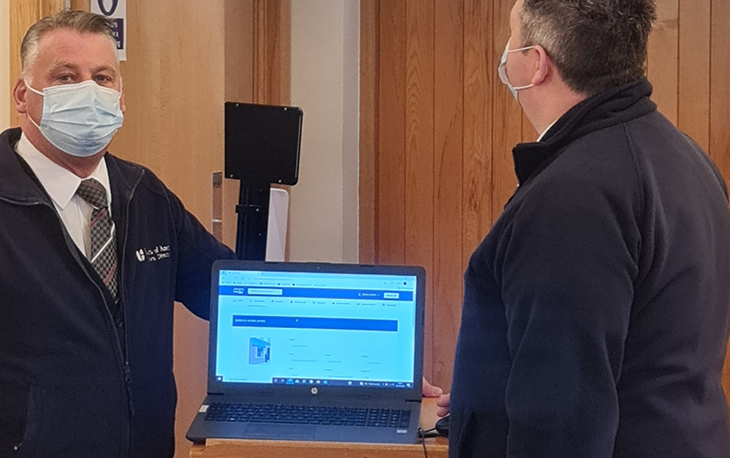 The funeral industry is undergoing some of the biggest changes in recent memory. Livestreamed funeral services, for instance, have become an expectation for many families as a result of the pandemic.
Bairds of Antrim Funeral Directors in Northern Ireland – part of the Funeral Partners family of funeral businesses – recently invested in a high-quality, no-fuss streaming service from an on-site service room at its premises.
Business Principal Jon Baird and Regional Support Manager Emma-Jayne McClure experimented with a variety of platforms and equipment to facilitate streaming at Bairds of Antrim.
Jon said: "One challenge was our router not having the signal strength to reach the service room, which is in a separate building to the funeral home. This is in addition to us needing to manually troubleshoot and restart the software when we encountered errors."
Emma-Jayne and Jon came across a livestreaming specialist with experience in the funeral industry, and, with investment from Funeral Partners, were able to hire their services.
At the click of a button, the funeral team are now able to book what time the livestream starts and the livestreaming specialist handles the rest, generating a password protected link for them to share with families to watch on the Bairds of Antrim website.
Emma-Jayne added: "Funeral Partners installed a dedicated router for the service room and the media company is able to remotely access the cameras to fix any issues during the service, which is fantastic."
Seamus McNicholl, Managing Director of MCN Media, which provides the live streaming services, said: "From start to finish, we found Bairds of Antrim very easy to work with. They knew exactly what their customers' needs were and our engineers were able to achieve what was required, including a stable recording facility and secure password system to help families keep control.
"For other funeral homes considering their first foray into livestreaming, we highly recommend investing in fibre optic broadband and a good quality webcam. We believe the demand for livestreamed funeral services is only set to grow, and now is the time to upgrade."
After the successful trial at Bairds of Antrim, Funeral Partners plans to incorporate quality livestreaming in its other service rooms across Northern Ireland, and to be able to ensure those who aren't able to attend a funeral in person can still feel part of the service, pay their respects and say their goodbyes from afar.