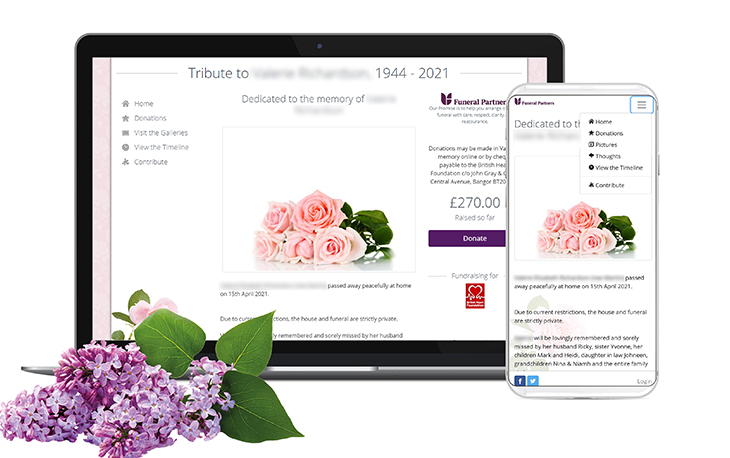 Funeral Partners funeral directors across Northern Ireland have helped families raise over £200,000 in memory of their loved ones thanks to a surge in online donations.
John Gray & Co Funeral Directors in Bangor, Holywood and Newtownards has created more than 134 virtual tribute pages on behalf of families through MuchLoved, the online tribute platform since its partnership with the charity began in July 2020.
Barbara Wilson, Funeral Arranger at John Gray & Co, said: "MuchLoved gives families the option to have us facilitate online donations to a charity of their choosing, often in lieu of traditional gifts like flowers from friends and relatives. Collectively, these donation pages have received over £56,000.
"Friends and family can also post the funeral notice, photos, videos and messages to their loved one's tribute page no matter where they are in the world, which has helped people come together and mourn during this terrible pandemic."
John Gray & Co was inspired to start offering MuchLoved pages to families when the Covid-19 outbreak made traditional donations like flowers and cheques difficult to process.
Barbara said: "We used to send donated cheques and gifts to charities by post, but this became difficult to do as the mail faced logistical problems and social distancing restrictions came into place.
"Charities are in need of funds more than ever and we know a number of other Northern Irish funeral directors in Funeral Partners have had success with MuchLoved pages. We've therefore been offering them to families since July and the uptake has been incredible."
John Gray & Co has so far helped families raise over £8,300 for the Alzheimer's Society, £6,800 for Marie Curie, £6,200 for Cancer Research UK and £4,300 for Macmillan Cancer Support, as well as donations for 33 other charities.
Bairds of Antrim Funeral Directors has helped their clients raise more than £51,000 through MuchLoved tributes, while Mulhollands Funeral Directors in Carrickfergus and Larne has helped raise over £46,000.
Richard Baker, Funeral Partnerships Manager at MuchLoved, said: "MuchLoved are delighted to be working with John Gray & Co, and the rest of the dedicated Funeral Partners teams in Northern Ireland, providing a service that not only has benefited the aforementioned charities but also has given a valuable bereavement service to families by way of an online tribute page.
"MuchLoved has worked hard to provide additional support and tools for our clients over the last year to be able to help alleviate some of the distress caused by the restrictions imposed by the pandemic. It's great to see how dedicated, adaptable and enthusiastic the Funeral Partners teams in Northern Ireland have been making the most of what we are able to offer."